2013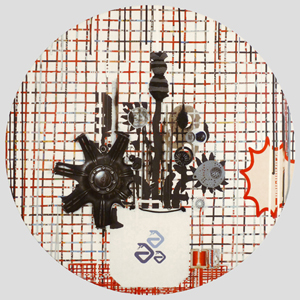 Zwarte zonnebloem | Black sunflower. 2013.
Diameter 120cm. Mixed media on canvas.

Multi Solo: Kunst als subversieve daad. Curator: Annelien Kers
TETEM kunstruimte, Enschede. 5|12|2013 until 12|1|2014
Participant artists: Aquil Copier, Balta, C.A. Wertheim, Daphne ter Wee, David Bade,
Ewoud Bakker, Joanneke Meester, Maarten van Aken, Marie Janin, MeesterCopier,
Mette Sterre, Nikki Rosa Ootjers, Veerle Ritstier
+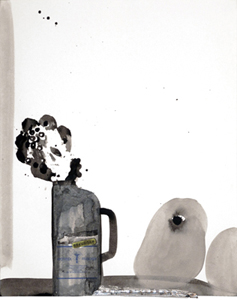 Still life. 2013. 50,8 x 40,6 cm. Mixed media on paper

Small Works XIV
RAM Berry Koedam, Rotterdam. 10|11|2013 until 12|1|2014

+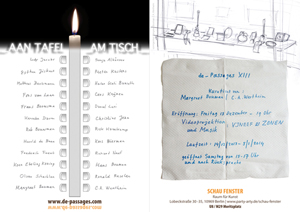 Am Tisch ! Aan tafel. de-Passages. Schau Fenster, Berlin, Germany
13|12|2013 until 5|1|2014
Curators: Margreet Bouman, C.A. Wertheim
Participant artists: Sonja Alhäuser, Heike Kati Barath, Matthias Beckmann, Kees Bierman, Frans Boomsma,
Hans Bouman, Margreet Bouman, Rob Bouwman, Harold de Bree, Koen Ebeling Koning, Frederik Foert,
Risk Hazekamp, Lidy Jacobs, Christine Jean, Esther Jiskoot, Cees Krijnen, Pieter Kusters, Fons van Laar,
Daniel Levi, Richard Neef, Ronald Ruseler, Oliver Scheibler, C.A. Wertheim
+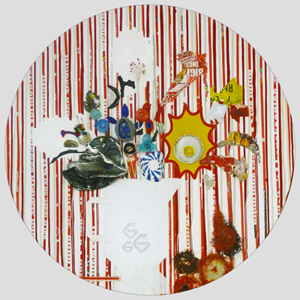 Voor altijd voordelig. 2013. Diameter 85 cm. Mixed media on canvas.

Van d'Witte Leli naar d'Oude Schans
Amsterdam House of Arts and Crafts, Amsterdam. 29|11 until 2|12|2013
Participant artists: Maryan Geluk, Elisabeth van der Helm, Vallie Jansen, Beppe Kessler, Wilma Kuil,
Clementine van Lamsweerde, Herma Meere, Sonja Oudendijk, Anneke Pleiter, Margit Seland,
Anja Stevens, Fred Thoolen, Ruth Tolsma, Joke Werkhoven, C.A. Wertheim, Marieke Zeeman, Lucy Zom
+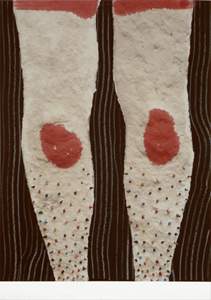 Untitled. 2013. Multiple.
C-print and color pencil. 42 x 29,7 cm.

ONGEKEND! Museumnacht
Saturday 2|11|2013, 10.30 - 11-30 PM, HERMITAGE, Amsterdam
+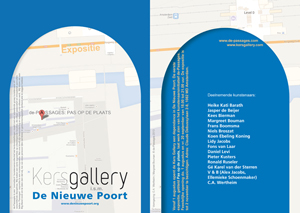 de-Passages: Pas op de plaats. In cooperation with the Kers Gallery.
De Nieuwe Poort, Amsterdam. 1|8 until 2|11|2013
Participant artists: Heike Kati Barath, Jasper de Beijer, Kees Bierman, Frans Boomsma, Margreet Bouman, Niels Broszat, Lidy Jacobs, Fons van Laar, Daniel Levi, Pieter Kusters, Koen Ebeling Koning, V & B (Alex Jacobs en Ellemieke Schoenmaker), Ronald Ruseler, Ge Karel van der Sterren, C.A. Wertheim
+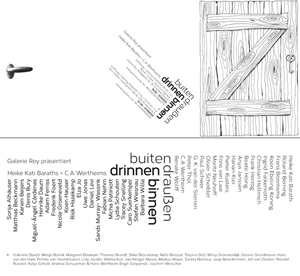 Drinnen binnen buiten draussen
Group exhibition and silk-screen print in commission. Curated by Heike Kati Barath and C.A. Wertheim.
Presentation of the Stubenhocker Magazin nr. 2.
Kers Gallery, Amsterdam. 31|8 until 22|9 and Galerie Roy, Zülpich, Germany 15|9 until 12|10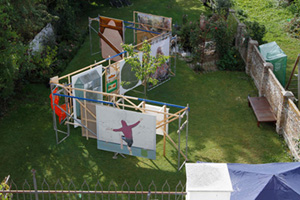 Exhibition view. Photos Denis Bury. (Download PDF)
Participant artists outside: Heike Kati Barath, Ronald Berning, Frans Boomsma, Koen Ebeling Koning,
Ingrid Falkenroth, Christian Hellmich, Frank Herzog, Beate Höing, Anya Jansen, Hanan Klei, Pieter Kusters, Fons van Laar, Fabian Nehm, Moritz Neuhoff, Micha Patiniot, Oliver Scheibler, Paul Schwer,
G. K. van der Sterren, Peter Thol, C.A. Wertheim, Stefan Wiesnau, Renate Wolff

Participant artists inside: Sonja Alhäuser, Heike Kati Barath, Matthias Beckmann, Karien Beijers, Denis Bury,
Miguel-Angel Cárdenas, Henrike Daum, Adam Ferriss, Frederik Foert, Nicole Groeneveld, Koen Hauser,
Risk Hazekamp, Elsa Jo, Uwe Jonas, Daniel Levi, Sands Murray-Wassink, Fabian Nehm, Micha Patiniott,
Lydia Schouten, Tracey Snelling, Caro Suerkemper, C.A. Wertheim, Stefan Wiesnau, Barbara Wille

+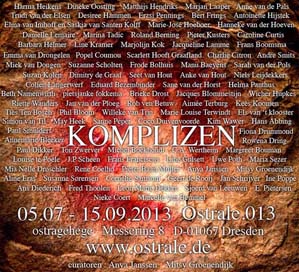 Komplizen / Accomplices. Group exhibition curated by Anya Janssen and Mitsy Groenendijk.
Ostrale Zentrum für zeitgenoessische Kunst, Dresden, Germany.
Part of the Ostrale 2013. Main theme: Wir überschreiten den Rubikon. 5|7 until 15|9|2013
+
Three times a lady. Participant artists: Sarah van der Pols, Lidy Jacobs, C.A. Wertheim.
Galerie Lutz, Delft. 16|6 until 7|7|2013

+
WIJ IN 2113! Een eeuw vooruit
Participant artists: Anatosh, Karin Bos, Mattijs Bredewold, Lee Eun Young, Barbara Broekman,
Ronald de Ceuster, SylviaEvers, Kim Habers, Yvonne Lacet, Lys Vosselman,
Daniel Nijveld, C.A. Wertheim, Wil Westerweel
Espace Enny in cooperation with ROC Graafschap College and EDU-ART,
Laag Keppel. 2|5 until 16|6|2013
+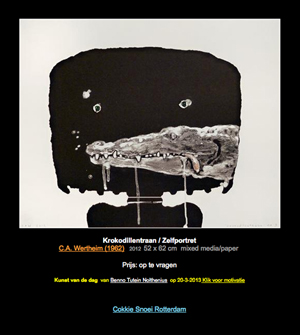 Kunst van de dag by Benno Tulein Nolthenius. Galeries.nl. 20|3|2013
+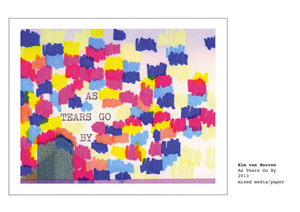 As tears go by. Group exhibition. Cokkie Snoei, Rotterdam. 24|2| until 30|3|2013
Participant artists:
Philip Akkerman, Frances Alleblas, Gijs Assmann, Heike Kati Barath, Norbert Bisky, Merijn Bolink,
Hans Citroen, Adam Colton, Lisa Couwenbergh, Noelle Cuppens , Jimi Dams, Marco van Duyvendijk,
Anneke van der Eerden, Elza Jo, Pam Emmerik, Frans Franciscus, Marliz Frencken, Milou van Ham,
Koen Hauser, Femke van Heerikhuizen, Scarlett Hooft Graafland, Pieter Hugo, Anya Janssen,
Esther Janssen, Jeroen Jongeleen, Gerald van der Kaap, Michael Kirkham, Paul Kooiker,
Maartje Korstanje, Juul Kraijer, Anouk Kruithof, Wilma Kuil, Pieter Kusters, Danielle Kwaaitaal, Gyz La Riviere, Raoul de Lange, Erik van Lieshout, Axel Linderholm, Phoebe Maas, Keetje Mans, Ben Merris, Sands Murray-Wassink, Paul Nassenstein, Kim van Norren, Pim Palsgraaf, Helma Pantus, Micha Patiniott, Elena Pereira, Marisa Rappard, Peter Redert, Francisco Reina, Wouter van Riessen Isabella Rozendaal,
Zina Sarogua Wiwa, Schilte & Portielje, Johanna de Schipper, Lydia Schouten, Bert Sissingh,
Tracey Snelling, Lily van der Stokker, Henk Tas, Joost van den Toorn, Koen Vermeule, Eveline Visser,
C.A. Wertheim, Co Westerik, Justin Wijers, Sylvie Zijlmans & Hewald Jongenelis,
Maja Zomer, Bas Zoontjens en Ina van Zyl
+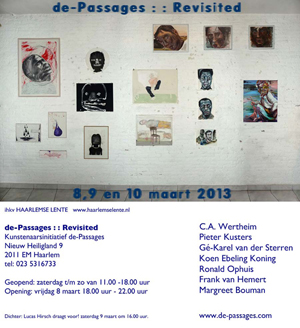 de-Passages : : Revisited. Curated by Margreet Bouman
Part of the HAARLEMSE LENTE Nieuw Heiligland 9, Haarlem. 8|3 until 10|3|2013
Participant artists: Margreet Bouman, Koen Ebeling Koning, Frank van Hemert,
Pieter Kusters,
 Ronald Ophuis, Gé-Karel van der Sterren, C.A. Wertheim

+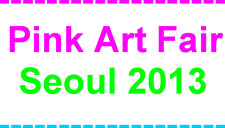 Pink Art Fair. de-Passages. Artists-run Gallery. Curated by Federique Le Graverend.
Participant artists: Frans Boomsma, Hans Bouman, Pieter Kusters, Ronald Ruseler, C.A. Wertheim
Intercontinental Seoul COEX, Seoul, South Korea. 1|3 until 3|3
Floor-plan. (Download PDF)
+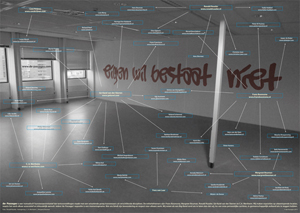 Design: C.A. Wertheim
Eigen wil bestaat niet. de-Passages 9. Re: Rotterdam Art Fair. 6|2 until 10|2|2013